Woman Allegedly Sets Fire to Family's Home in Cliffside Park, NJ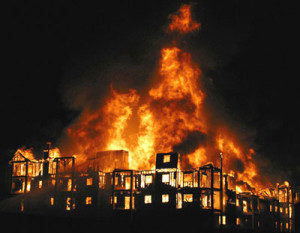 A Cliffside Park woman was recently charged with aggravated arson and child endangerment after she allegedly started a fire at her own apartment building.
According to Bergen County Prosecutor Gurbur S. Grewal, Laila Abualia started a fire inside the apartment building where her husband and two young children, ages three and five, also resided. The fire was initially reported by the building's superintendent.
After first responders arrived at the scene, the Bergen County Prosecutor's Office Arson Task Force and Arson Squad determined that the fire started in Abualia's bedroom and living room. It was reported that Abualia attempted to leave the scene in a taxi; however, the superintendent stopped her.
As a result of the allegations that she intentionally started the blaze, Abualia was arrested and charged with aggravated arson and endangering the welfare of a child. She later appeared in Bergen County Central Judicial Processing Court and was subsequently remanded to Bergen County Jail without bail.
This case may have led to the involvement of the Division of Child Protection and Permanency ("DCP&P"), formerly the Division of Youth and Family Services ("DYFS"), in Bergen County. There are two DCP&P local offices in Bergen County: the Bergen Central Local Office, located at 240 Frisch Court – 2nd Floor, Paramus, NJ 07652; and the Bergen South Local Office, located at 125 State Street, 1st & 2nd Floors, Hackensack, NJ 07601.
DCP&P investigates allegations of child abuse, child neglect, and child welfare concerns in New Jersey. Often, when parents are charged with child endangerment, the Division gets involved in order to ensure that the alleged child victims are living in a safe and appropriate home. In other words: DCP&P serves a much different function than the criminal justice system. The Division operates independent of the police department and the prosecutor's office. Thus, even if criminal charges are ultimately downgraded or dismissed, DCP&P may have already filed a complaint for custody or care and supervision of the alleged child victims in the New Jersey Superior Court, Family Part.
Additionally, in cases in which parents or guardians are arrested and there are no immediately available caretakers for the children, the police must contact DCP&P to take custody of the children on an emergent basis. Then, the Division must appear in the Family Part within two days of taking custody of the children to file a complaint for custody and to obtain a temporary custody order.
In any case that DCP&P files in family court, DCP&P will be represented by a Deputy Attorney General, the children will be represented by their own attorney (a Law Guardian), and the parents are entitled to legal representation either through the public defender's office or by a private attorney. If DCP&P has taken you to court in Bergen County or anywhere else in New Jersey, the experienced DCP&P defense lawyers of the Tormey Law Firm in Hackensack are available to help you with this stressful situation. In fact, our defense team has a former Deputy Attorney General who represented the Division, so we know what it takes to win these kinds of cases. Our legal team of skilled and knowledgeable DCP&P defense attorneys is ready to fight for you.